EWSC programming focuses on the education of the parents along with their children. Providing educational services to adults stimulates a greater interest on the part of parents to become involved with the education of their children. Parents reported on our surveys that, as a result of their participation in East Wayne Street Center programs, they spent more time with their children talking about school, helping with homework and reading with their children. East Wayne Street Center programming maximizes this intergenerational transfer of educational benefits from parents to children. The Center has also partnered with WorkOne Indiana to provide vocational and on the job training. Studies show that when vocational training is combined with adult basic education, the likelihood of self- sufficiency is increased. EWSC programs promote the critical thinking and interpersonal communications skills necessary to compete in today's job market.
Programs
Project S.O.L.V.E. (Step on the Ladder of Vocational Education)
Project Solve prepares students to pass the High School Equivalency Exam (HSE) and provides an opportunity to receive vocational training and achieve industry certifications. The program targets high school dropouts and adults who need to improve their scholastic proficiencies. Students are initially tested to determine their academic levels in reading, language, and math. Individual learning strategies are developed and the students are retested every 30-40 hours of instruction to measure their progress. Students learn resume writing, interviewing techniques, and other soft skills to enhance their employability. Students also learn problem-solving and critical thinking skills. Employers have indicated that these qualities are just as valuable as job experience. Students also receive financial literacy training from local banking professionals. Transportation and childcare are available at no cost. EWSC pays for the total cost of the High School Equivalency Exam and provides an annual graduation ceremony.
EWSC Family Literacy Program:  The program is designed to encourage families to learn together while enhancing life skills, job skills, and HSE preparation. Transportation and childcare are available at no cost. The Family Literacy Program consists of four components: The Adult Basic Education segment consists of administrating the test of adult basic education or TABE. After 40 hours of class instruction, the students are tested again to measure academic level gains in math, reading, and language. Students scoring at grade equivalent 11.0 are given materials to practice for the official HSE. The Early Childhood segment consists of assessing the children's academic and developmental progress by using the DIAL4 and COR. Children enrolled in the Head Start program are pre, mid and post-tested to evaluate their progress in the program. Infants and toddlers are exposed to a vocabulary saturation which teaches them new words every day. The Parent and Child Together segment consists of an interactive play situation chosen by the child. Parents and children spend quality time in an environment that promotes and reinforces learning. Parents are also given surveys at the beginning, middle and end of the program that measures how much time they spend reading with their children and how much time they spend talking to their children about school. The Parent Resource segment consists of a support group for parents where they can discuss common issues and share resources and strategies. Students do not have to have children to participate in this program. The program has been expanded to include parents with older children or without children and single person families.
EWSC Food Bank – is a partnership with Associated Churches. This collaboration allows EWSC to provide crucial sustenance to the East Central neighborhood. Since 1983, the Center has been providing food to the low-income population of   East Central Fort Wayne.
Brightpoint Head Start at East Wayne – This comprehensive, community-based program focuses on the health, education, and welfare of its participants.  Head Start provides nutritional, medical, dental, vision, social and mental health services and actively involves the parents, family, and community in the program operations. The goal is to prepare 3 to 5-year-olds for kindergarten and to bring about a greater degree of social competence in children of low-income families. The program serves 120 children (10% with learning challenges).
CANI Headstart at East Wayne
Phone: 260-422-6503
Fax: 260-422-5305
Address: 825 Francis St, Fort Wayne, IN 46803
Metro Youth Sports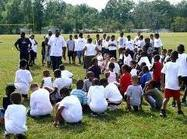 Metro Youth Sports is a community outreach program for at risk youth. This mentoring program reinforces civic and educational values through participation in sports. The program serves over 1,200 youth football players and cheerleaders and is housed in the East Wayne Street Center. The program fosters family involvement in the recreational pursuits of area youth and is supported by the community.